Where It All Breaks Down: Farewell Francis, Munster Rucking And Is It Time For Tommy To Pass The Baton?
Munster Haka is a rugby news, entertainment and opinion website with a red tinted focus.
Latest posts by Munster Haka (see all)
Written by Ronan Calvert of Munster Haka
---
Last week I wrote of how Francis Saili should get the nod over Jaco Taute for the Pro12 final because of his attacking qualities. Despite concerns about the New Zealander's defence, I felt that regardless of selection, this electric Scarlets side would score tries and therefore scoring tries of our own had to be prioritised.
However, what I failed to foresee was the extent to which Saili would diminish the defensive standard that we have seen all season, and as a result of that, Wayne Pivac's men saw the game fall perfectly into their hands.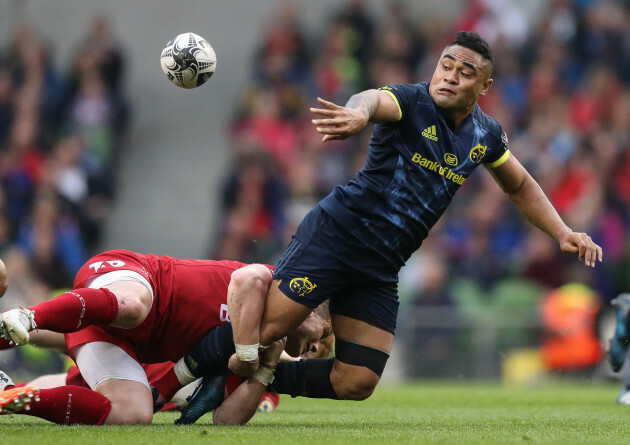 Yet you feel that in different circumstances, circumstances where Munster's forward play was more efficient and accurate, that Saili and his fellow backs could have made amends for what was a defence coach's nightmare. In my mind, playing Francis against Scarlets would always mean a high scoring encounter, whereas Taute in contrast would have brought a compactness with and without the ball. No, I don't think Munster would have won by making that one change. In fact, they likely would have lost more respectfully but without really having a go.
Back-line Quality
Munster's backs have come in for a large share of the criticism following defeats this season. A lot of it unjustified. We're having our End Of Season Awards on Munster Haka this weekend and I can tell you the Try Of The Season standard is better than we've ever seen. The team have produced a number of sheer moments of magic in games that they have dominated, but the positive intentions remained in lower scoring fixtures too. Against Ospreys Munster offloaded ten times, while in the final there were no less than twelve (two more than what the Scarlets made). That's also about double what we saw from Ireland at any stage in the Six Nations.
Think back to Leicester away and the Saracens semi-final as well as Saturday's match. One thing that they all have in common is that the backs never got motoring – there's no getting away from that – but even more importantly, the clear-out around the ruck was always less than impressive. This of course makes the task of attacking with pace and purpose very very difficult and makes the likes of Francis Saili look distinctly average .
Slow Clear-Out
In every game that Munster lost this season, they also lost at the breakdown. The speed of support once a man goes to deck has just always been that second too slow. We pointed this out when all seemed rosy last Winter. Munster were winning games comprehensively left, right and centre, but the sloppy support play was just too ugly to ignore.
Below are just a couple of instances of Munster players becoming isolated in attack.
Leicester, Saracens and Scarlets all targeted this particular area and it paid great dividends for them as it cut the source of any decent possession for the backs and denied Munster of any momentum. It's easy pickings for any team that wants to sacrifice a man or two from the defensive line and compete at the breakdown, but from a Munster point of view, why is this happening?
Munster's fitness levels are better than they have ever been, the work-rate of the players isn't to be questioned and once support does arrive it is usually quite accurate. However, when I then look to the personnel, I see eight big men that (with the exception of the naturally slower locks), don't see rucking as their primary role, but instead ball carrying.
The Secret Seven
Tommy O'Donnell is a fan favourite in Thomond and Irish Independent Park. A hard-worker with dynamic rucking and carrying ability. He has been instrumental to most positive things that Munster have done since their last piece of silverware in 2011, but turning 30 next month and seemingly slightly hampered this season by some serious injuries, his ability to supply Munster with clean ball on the deck has some question marks having over it.
You know your team is in a good place when you can consider dropping an international like O'Donnell but when the breakdown work is off, fingers will be inevitably  pointed at the backrow and it won't be one of the two British and Irish Lions that will pay the price. It's not O'Donnell's fault of such but with all three backrowers weighing over 105KG, there's bound to be an imbalance.
On the other hand, shooting up through the ranks is Conor Oliver. 10 KGs lighter than O'Donnell and standing at 6 foot, the Garryowen pocket rocket to me, is the man to bring balance to the backrow. The abundance of passion and energy that the Dubliner has brought with every playing opportunity has been eye-catching and his love for hitting those rucks can only allow the likes of Stander to express themselves some more in the loose.
His pace also brings a new dimension to Munster's forward play as opposed to O'Donnell's only too familiar power. The seasoned regulars at Dooradoyle will tell you he's a "proper openside" and they're not wrong. In the mould of Michael Hooper, Oliver can act as a linkman and a jackler whenever he's not found knocking bigger men out of rucks. I think anybody would happy to see Tommy O'Donnell on the first teamsheet of next season, but unleashing young Oliver is a serious option that should be considered.
Munster may have been left scarlet on Saturday, but we have a whole new season to look forward to in September.