Tiger Bleyendaal | The Christchurch Comeback Kid Set For Sarries Showdown
Munster Haka is a rugby news, entertainment and opinion website with a red tinted focus.
Latest posts by Munster Haka (see all)
Written by Ronan Calvert of Munster Haka
---
Should Tyler Bleyendaal guide Munster past Saracens and into a fifth European Cup final this Saturday afternoon, not only would it be one of the greatest results in the province's history but also one of rugby's finest tales of dogged persistence, unwavering perseverance and an inspiring will to overcome the most ominous of injury records.

Munster going all the way would be a bonus. Bleyendaal starting in the final and orchestrating that winning performance would be another bonus. To contribute at this level towards Munster booking their first Heineken Cup final date in eleven years after everything he's been through – injury, turbulence and tragedy included, would be nothing short of incredible. Retirement? A matter of time, they said.

This is beginning to sound somewhat similar.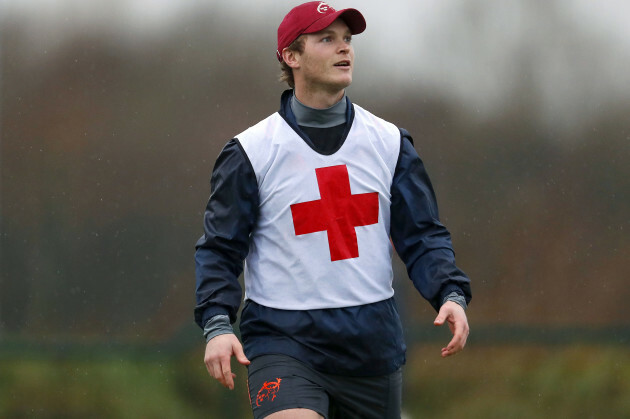 Ninety-one weeks on from his arrival at the University of Limerick in January 2015, Tyler finally made his European Cup debut for Munster on the 22nd of October 2016. Although intended to be the team's starting outhalf from day one, it came twenty-nine months after his signing was announced ahead of Anthony Foley's first season as head coach.

He shone that afternoon. Stupendous, breathtaking, one of those sporting performances that numbs your limbs with a trickle of goosebumps. 'Blessed by the rugby gods' in the words of Sky's Miles Harrison. It's one thing being a Munster player but you aren't truly baptised until you don the red jersey on a Heineken Cup matchday. To debut like that in the biggest fixture in Thomond Park's history is different. Ever cool, forever composed and unflustered, few players make great coaches but Bleyendaal has been tipped to be one such man. It was clear to see why that day – those unique traits on full display.

But what about the intervening time? To be sidelined for that number of months in a new, foreign surrounding at the other side of the world. All you want to do is make an impression and injury simply won't allow for it. Just when you're in the clear, the next issue raises its head. How does an athlete deal with those setbacks and the infuriating timing of them? For your average player words like frustration, torment and torture spring to mind. The very fact Bleyendaal is spending this week prepping for a Champions Cup semi-final showdown suggests he is otherwise.



Faith

Upon signing for the province in May 2014 it was agreed that the then 23 year-old would link up with his new teammates in the November of that year following Canterbury's ITM Cup season. However, what was first perceived to be a 'sore neck' while on duty for his home city soon unfolded to be a prolapsed disc that saw him ruled out for the remainder of their campaign and requiring surgery. Dealing with the cruel blow, Bleyendaal instead remained in New Zealand until January 2015 where he nursed his neck ahead of his big move across the world. He eventually arrived but wouldn't play a single minute for the first team that season as Munster crashed out in Europe's group stages at the hands of this weekend's opposition Saracens. A thumping 33-10 that time on the plastic pitch of Allianz Park, Munster's halfbacks were a far cry from the partnerships of seasons gone by and indeed the seasons that would follow.

Season two and a quad problem sidelined Tyler before he ever really got going, finishing with five appearances and just three more points. To recover from such a long time out following his first neck surgery, to get himself back into shape mentally and physically and to work his way back up to match speed only to be slapped back down like that – cruel is the only word. No doubt those friends and family back home desperate for such a massive career choice to pay its dividends were left distraught by the latest setback. Increasingly desperate Munster supporters were likewise and as Tyler's no-show approached the bones of two seasons, the biggest crisis in the province's history coincided. It's unfortunately difficult to forget the likes of Leicester, Stade Francais and Connacht inflicting gut-wrenching hammerings that punished the most meek, unrecognizable of Munster displays, ripping the heart from the proud province and momentarily leaving the team Tyler signed up for in tatters – a team who now unthinkably faced the real possibility of not even qualifying for Europe.


Full-fled panic and the outhalf position chief among Munster's problems; unrest, impatience and desperation stirred up together meant a section of fans wouldn't have taken issue with cutting their losses on Tyler to free up funds for a new number ten. At the wheel of European embarrassment and with the inexperienced Johnny Holland dragging the side to sixth place in the league upon his return from injury, 2015/2016 was a seriously tough one for Ian Keatley. With Holland injury-plagued and unproven at best before his short-lived exposure to the first team and with Bleyendaal also out for the season, even in his darkest hour and through his most dour of form, Foley and the coaching team had no option but to wheel out the now London Irish playmaker week after week, seemingly finding new lows each time.

In fact it came to the point where there was one emergency exception to that rule when a hampered Bleyendaal made a shock start against Leinster on Stephen's Day despite his quad problem. Carrying the injury meant all kicking duties had to be passed onto centre Rory Scannell, but it was decided it was more important that Keatley was allowed to rest and recuperate than for Tyler to first fully recover. Naturally, he managed to have little impact on the contest owing to the reality of being, in the words of Peter O'Mahony's stinging post-match dressing room appraisal, 'an outhalf who can't fucking kick'. Or so it's reported.

As Keatley's struggles continued behind an under-performing forward pack after Christmas, patience amongst supporters wore increasingly thin, crying out for an outhalf that bore some resemblance to the quality, consistency or durability of Ronan O'Gara. At that particular time, Munster had none of the above available and having posted eight points in two seasons while taking up an NIQ (Non-Irish Qualified) position in the roster and racking up a wage for hardly playing, calls for Bleyendaal to be released gathered enough strength that Anthony Foley had to step in and stand up for the injury-plagued kicker. It all seemed so harsh but yet completely understandable.

Modern rugby is ruthless. At their time of need, Munster required a foreign signing that was going to guide them into knock-out rugby and maintain the incredible standards set by the bygone generation. By failing to get out onto the pitch as many as ten times over the course of two full seasons, talented or not, promising or not, a gentleman or not, Tyler Bleyendaal was not a relation of the player fans were talking about. In the circumstances, that quickly became a general consensus and as though he wasn't in a dark enough place already, the Kiwi was at the heart of a grim conversation that frankly revolved around releasing a talented player as punishment for his misfortune. Business is business, we said.

But the late Foley stood by him through it all. Under the hefty pressure that came with those two seasons at the helm, falling to the desires of the fan base and replacing Bleyendaal with a new number ten to keep the support onside may have tempted many. Not Axel. Through that year and a half or so, he backed his man, believing such loyalty and belief would bear fruits down the line, that time and faith was essential. His belief in the one-time Junior World Player Of The Year nominee was deeply-rooted from day one and amid fears about his neck injury he made that clear. 'We as a club need to look after the player and it's not a piece of meat we are dealing with. It's a human being, so there is a human side to this that we need to manage, and that is what Munster is about.' Brave, faithful, he stood by his word through thick and thin, right to the last.

Fast forward a year and Tyler Bleyendaal was nominated as European Rugby's Player Of The Season for 2016/2017. Anthony never had the chance to see him play a Champions Cup match.



Rock Bottom

Returning from a second neck surgery is a step not many athletes are prepared to take. What could be the consequences of a third injury? In February 2018 that was the dilemma down the line for Bleyendaal. Having sustained an injury in October and returning in February, Munster's hero of the previous campaign would have been thrilled to have shaken off a worrying recurrence of his 2014 troubles. However, upon his return to play it turned out he still wasn't quite right, devastatingly still struggling with symptoms from October's issue. It was time to write off another season and go under the knife for a second time. Just when all looked bright. Just when he thought he was over the worst of it. One neck injury is frightening, to eventually come out the other side of it and have it immediately followed by a troublesome quad problem is soul-destroying. The prospect of a second neck surgery must have been a damning one. Spirit breaking, hope quenching.

It was a sad day in 2015 when fullback-come-backs coach Felix Jones was forced to retire aged 28 with a second neck injury. Jones broke his neck during an interpro derby against Connacht on the St Stephen's Day of 2009 and when a lesser incident involving his neck occurred against Glasgow Warriors in a league fixture almost six years later in Bleyendaal's first appearance at Thomond Park, the Dubliner decided it was in his interests to hang up his boots before he caused any further long-term damage.

Now 28 himself, Tyler is just about fortunate enough not to have suffered an injury quite as serious as Jones' in '09. That said, how easy is it to go out and play again after a second surgery on your neck, what consequences on life would come with a third neck injury? Is it a justifiable risk? You can be certain Felix has had more than one conversation with him on the subject. This is a man who has left everything he knew back home in Christchurch to pursue a dream in the sport he loves. It's a sport that has chewed him and spat him out over the years, but his inner ambition and belief means he's not going to allow 2016 forever remain as merely a sample of what could have been. Like Axel, he knows just how good he can be. When you pause to consider what he's been through, lacing up his boots at the Ricoh Arena this Sunday is the rugby equivalent to Niki Lauda getting behind a steering wheel again.



When Tiger Woods got his last-resort spinal fusion in 2017 it was first and foremost to enhance his quality of family life. Having hit rock bottom, succumbing to years of over-extension, pushing beyond the limits and playing through pain-barriers, golf was no longer the priority for the 43 year old. Surgery after surgery to his back, this was a man who struggled to walk in the previous years, a man who struggled to interact with his children without sheer pain. Like Notre Dame Cathedral, a once majestic, proud, iconic part of our history and culture was reduced to rubble.

Indeed earlier that year Woods told Nick Faldo at a Masters champions function he might never be able to play again – a possibility he wasn't going to accept without a hell of a fight while the fire was still burning inside – but a medical reality at that. The man who won his last major on a broken leg in 2008 displayed likewise determination in his toughest hours some years on, willing to go through as many surgeries as necessary until he could get back out on the green chasing that same record he's been eyeing up since he was a three year old kid. When it all looked to be over for so long – failed comeback, break, followed by failed comeback – Tiger never stopped battling that injury head on and resurrected himself from the ashes (that Izzy Folau probably summons him to) to overcome ridiculous pain in the name of  the sport he loves. After his fourth back surgery in 2017, he would pick up the club for his final bite at the cherry in pursuit of rekindling the magic he once produced ever so often.
The rest is history.

Persistence

Along the same timeline Tyler Bleyendaal had by no means hit the medical lows of the 2019 Masters Champion, but as Felix Jones discussed in 'Rugby's Wheelchair Challenge', the neck, similarly to the back is incredibly precious for allowing the gift of walking that we all take for granted so much. Bearing that in mind, risking the ability to walk after successive surgeries to the back by returning to golf is one big thing. Risking the ability to walk after successive surgeries to the neck by returning to the physical onslaught of the bear-pit that is modern rugby is another. When you watch Bleyendaal deal with serious setback after setback, you wonder what is it that keeps that competitive beast going? If ever there was a case study of an athlete's determination Tiger Woods is that man, but you can't help but feel that there is more behind the story of perseverance developing in front of us.
Recently hit by that shocking terrorist attack, you can be sure the people of Christchurch have come together to support one another and persist positively about their day-to-day business. Composed, resilient and  determined in the aftermath of 2011's 6.3 magnitude earthquake, you'd expect the locals have carried themselves every bit as impressively in the wake of their latest tragedy. Bleyendaal told Peter O'Reilly in the Sunday Times that he was out training when the earthquake hit eight years ago forcing him to race home around liquefaction and roadblocks to see if his family were all alright. In the horror of the scene it was natural to fear for the very worst, but thankfully for Tyler, his friends and family were safe when he returned. Others of course were not so lucky – 185 people killed and many more homes destroyed amongst the chaos. Everybody knew someone terribly affected. Weeks of supporting the community with fresh water were to follow for the Bleyendaals as the people got by without power and basic resources in the aftermath. Rebuilding has only started in the last couple of years and even that was disrupted by a 4.0 magnitude quake in 2018. Setback after setback, disappointment after disappointed, they somehow find the will to soldier on through the greatest of challenges.

Greater challenges than a neck injury, greater challenges than a sore back. You would wonder if every seed of doubt planted in that man's head since his arrival here back in 2015 has been squashed by the realization that his friends and family back home have come out the other side of far worse. Maybe that's why Tyler Bleyendaal will be putting on his scrumcap come Saturday at 3 O'Clock instead of watching in the pub or from his sofa like the rest of us. There's a substance, a depth, a belief and a story behind every man and woman's ability to strive towards the impossible and maintain a level of sheer persistence that ensures they one day achieve it. If Bleyendaal could steer Munster to a first Heineken Cup final in eleven years for their fifth appearance, the same way Woods putted himself to his fifth Masters eleven long years on from his last major victory, it would be one of the great achievements seen in our sport. It won't get the acclaim and that's fair – being a team sport, a reserved character and still just the semi-final stage – but as Munster supporters we will know the story behind the triumph.
Tiger Woods winning majors, cranes covering the skyline, Mick McCarthy managing the football team, we are now just a Munster Heineken Cup Final away from announcing the boom as truly back. Last week we learned that the lovely Israel Folau believes in miracles.  On Sunday the hell-bound Tiger Woods taught us that Izzy's dead right. A Munster victory conducted by our Kiwi comeback kid this weekend might just back him up some more. 

Four teams left. Two games to go. Only one throne.